What is MouseJail ?
It's a universal game patch for the multi-monitor users. During a fullscreen game, MouseJail captures the mouse into the primary monitor.
Some games (like "sunden strike" or "GT3") don't capture the mouse into the primary monitor. So when you move your mouse, you can see the mouse cursor on your second or third monitor, and if you click, you quit the game. Arrrg !!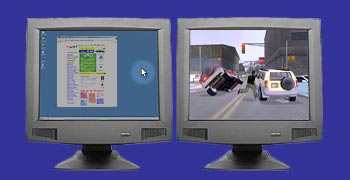 How to use MouseJail :

Copy "MouseJail.exe" in your windows directory (C:\WinNT or C:\Windows). (or in a directory accessible in the "PATH" environment variable).
Edit the properties of your game shortcut on your desktop, or in your start menu.
Insert at the start of your "Target" field : "MouseJail.exe" ( for example : "C:\GTAIII\gta3.exe" => "MouseJail.exe C:\GTAIII\gta3.exe").
That's all ! :) - Enjoy !
To the person saying it's not compatible with Steam games etc... You need to make sure you didn't add it to a launcher. IE, it will work on the menu for the game but not the game. Verify using task manger, what the exe of the game is while it's running. Make sure your short cut points to that, not the launcher.
This freeware is a beta version.
Dr Hoiby. -- June 17th, 2002 --