Application


Application

Application


Windows Patch

Application


Application


Application

Application


Application

Plug'In


Application

Application

Application


Visual Studio 6.0 Addin

Application

Application

Application


Application

Application


Application


Application


OpenGL Infos 1.13
To download this freeware
Dr. Hoiby is the author of this little tool.
All Dr. Hoiby's Freewares are certified without Java, without .NET and without any Virtual Machine Code.
He can be reached at webmaster@dr-hoiby.com.
What is OpenGL_Infos ?
It's a little test of your OpenGL driver. (It displays some Informations about your driver too).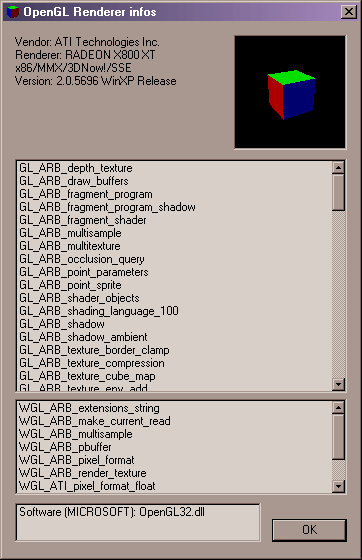 Links
For all problems with OpenGL : GLSetup.
If OpenGL_Infos ask for MSVCRT.DLL you can download it here : msvcrt.dll.
This freeware is a beta version.
Dr Hoiby. -- August, 2006 --
F.A.Q